Hardwood floor or floorboards or baseboards are flooring done with wood. This sort of floor is most common in most cottages or bungalows or even in apartments. These hardwood floors never miss a story to tell. But to clean the hardwoods floor can be tricky as they have different properties than tiles or marbles.
Types of hardwood floor:
To clean the floorboards first we need to know about the type of floorboards you have. There are three types of flooring done with wood.
Floorboards treated with polyurethane. This gives a water repellent property to floors.
Wood floor treated with water-resistant oil or wax.
Untreated wooden floors
To find out what kind of wood floor you have, spray a few drops of water on the floor. If this forms droplets, then the floors are treated. And if not, the wood will soak extra water.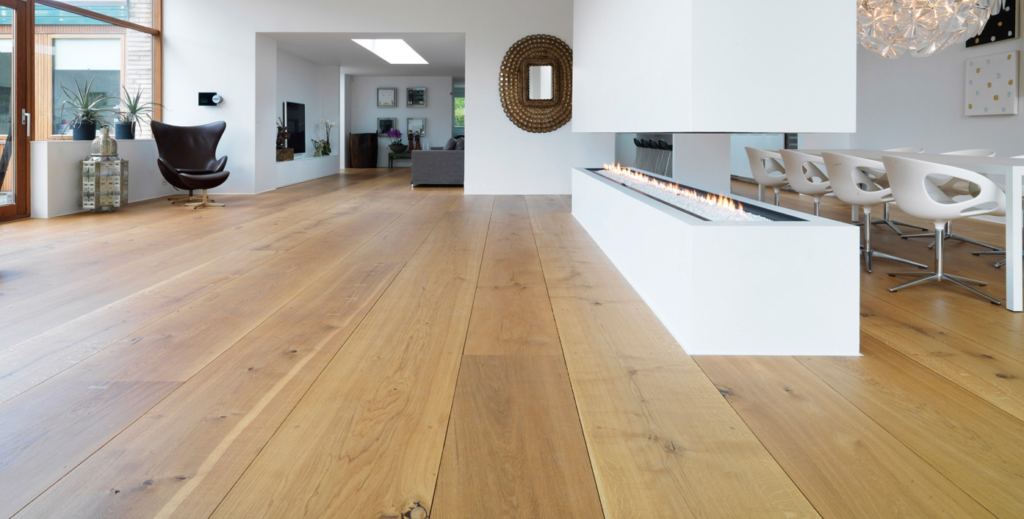 Here are 7 tips to clean your floorboards. These are for the finished baseboards that repel water.
Sweep your floor with a broom. This is the first step to clean your hardwood floors. The broom will collect individual large dust particles and will be ready for deep cleaning.
You can use a vacuum cleaner instead of brooms. But you have to make sure the bristles in a vacuum cleaner are not harsh on the floor. This can scratch the floor and cause a rough surface
Next comes to deep cleaning of the hardwood floors. You can use any kind of product recommended by your carpenters. Soap, water, etc.
Can always use mops to clean your floors. Or a clean towel too. Mopping is a source of deep clean hardwood floor. Damp your microfiber mop in a bucket and sweep it across the floor. This will sort out the dirt. Use a clean cloth to dry the flooring. Or use a fan to dry it out.
You can always add soap to a bucket and dump the mop with it and water. Mopping this way will give you safer flooring and soaps are safe to use. This will remove bacteria from shoes, pets, and outside. There are floor cleaners that are mild cleaners made for wooden floors especially.
Now let's talk about some homemade remedies to clean your dirty flooring. Dust grain can cause allergies cause of unhygienic floors. Vinegar can be used with water. This is a mild acid and will disinfect the floors. And also a cheap floor cleaning agent.
To remove any surface scratch from pets or to from the furniture, use wax. There are various flooring waxes available in the market or some sort of liquid to minimize the look of scratches from pets or simply walking with a shoe. Use a towel or cloth to swipe extra liquid.
These methods are finished floors. The procedure is slightly different for unfinished wood floors. Some of the tricks for unfinished wood floors are:
Use dry ways. Unfinished floors suck up water droplets and they can damage the floor.
Swipe the floor with a broom or vacuum it. Unfinished floors can have thick grimes. So sweeping comes first.
To deep clean the floor you can always use rubbing alcohol as a cleaning product. This doesn't wet the floor and leaves a sateen finish.
Use the solution specified for unfinished hardwood floors. These products are volatile and don't have a wet effect on the flooring.
Use wax to sort out scratches from pets and shoes and furniture moving.
Use a cleaning agent with a damp mop and wring it to remove the extra product.
Use wax or oils with tools to clear out the marks around the house.
Products are specified for different floor finishing and it varies from person to person how they want there to clean hardwood floors.
https://www.youtube.com/watch?v=PT-iEfrYrRE
Here I am suggesting different sorts of products to clean the hardwood floors in your house or apartments.
Brooms:
This is the most common source of cleaning tools. They are specified in various categories. Like: electric brooms, angled brooms, and brooms for hardwood floors. Each broom has different bristles and ways of cleaning. Softer kind of bristles is highly recommended as they don't damage the interior of the surface. Brooms also remove large grains of dust, pet hair, or any sort of residue.
Vacuum cleaner:
Works the same as a broom with less effort and can be used in any place besides in your house. But make sure you don't use the same plastic bristles as you would use in your carpets. They can be harsh and cause damage to the floor.
Mopping:
Water is the most common source of cleaning agents. They are the cheapest and versatile. Using a wet mop in the finished hardwood floors is okay. Use a bucket to pour water into it and wring the damp mop properly so it is mildly wet. Clean the floor and clean it nicely.
Cleaners:
There are all sorts of cleaning solutions to clean wooden floors. They are available in stores and in the website. Bona hardwood cleaner comes in spray form and cleans dirt and shoe marks as well. Pledge floor cleaner is very common and can be mixed with water to clean. The mop can be used with these products. Limbman is also a spray and a little bit of it goes a long way. This one comes with a measuring cup. There are also kits that look like a mop with the product in it to save any wastage of water. For unfinished floors use volatile products that don't wet the wood floors. Like alcohols and spirits. Mild acids can also be used. Rubbing alcohol and vinegar is the most common sort of cleaner. Vinegar is a natural cleaning solution.
Wax :
Waxes do not let water particles pass thus creating a barrier. Dura-seal is one of the most common hardwood wax. This has a tint in it. Hope's is another one that dries quickly. And also consider something eco-friendly and sustainable like Howard's beeswax. These will get rid of water, shoe, and pet marks and will retrieve the shine of the flooring to change the house story for everyone.
Oils:
oils create a water-proof barrier on the floor and help to get rid of oil-soluble dirt from the floor.
If you use natural floor cleaners or marketed ones. You want to make sure the baseboards are clean and the floor has its new shine in it. Cleaning will obviously take time. So, make a menu. Clean the floors at least three to four times a week. Follow the tips. Use wax polish at least twice a month to retrieve its shine.
What not to do to clean hardwood floors:
Try and use soft shoes like plush slippers or mule slippers at home.
Trim the nails of your dogs and cats so they don't scratch the floor.
Swipe up the floors if you spill anything on the floor. Otherwise, it can create a long-term watermark that is very hard to get rid of and also makes the floor look very dull.
Don't use too much water on the mop. This can cause stains on the floor if the floor is wet for too long.
Use wax or oils regularly so the shine doesn't fade.
Don't use harsh soaps like toilet cleaner on the wood floor. This will damage the hardwood floor's surface and the coating as well.
Don't use too much cleaning solution with water. This will create a slippery surface and you can break your back.
Use a soft fabric to soak up extra water. Make sure no water residue remains on the wood floor otherwise they will cause stains.
Use the homemade solution to reduce the cleaning cost and increase the availability of cleaners around the house.
Uses swipe method to reach every corner of the floor. Use small brushes to clean the edges of the floor.
Always use a soft towel and soft cloth.
For non-finished floors, try and put a coating of wax or polyurethane over it. This will increase the longevity of the floor base.
Do not use hot or steamed water to clean the wood floor. This will damage your microfiber mop and also cause damage to the floor coating and can melt the coating. That is beyond repair.
How to clean floorboards:
Use minimal water and soap on the mop. This will prevent water wastage.
Use prescribed chemicals to clean wood floors to avoid unnecessary damage.
Do not rub the floor using hard and stiff bristles.
Wipe any extra water or product and dry it quickly.
Use other than homemade remedies to increase the shine of your floor. Lemon and vinegar might not do all of the tricks.
Mop and swipe using microfiber kits. They are not harsh and do the cleaning perfectly and no stains. Also, use a microfiber cloth to wipe off extra moisture.
Wring the mops and make it slightly damp. Let the mop soak up the drops nicely.
Use a vacuum cleaner with soft bristles. This will not harm the flooring.
Do not use a steam cleaner on the hardwood floors. And especially on treated floors.
The best way you clean hardwood floors totally depends on you. Try out different products and methods. See if natural ones work best or chemical ones. Be gentle on the floor. Don't overdo anything or it will cause damage to the floor. Do not rub too much. It will cause the coating to break.