The city of Austin is captivating enough to ensure it is one of the best places you can visit in Texas. Austin being the capital of Texas, is a political, cultural, and entertainment hub with lots of things. Explore some of the Austin tx tourist attractions to discover what makes the city a favorite destination in the Lone Star State.
With vast urban parks, famous live music venues, to unusual sights, you'll have a variety of things to do in Austin. It's a destination that everyone can enjoy. Austin has it all if you are searching for a place to spend time with young kids or a fun night out with friends.
Let's look at some of the 11 top attractions in Austin. You can check out when you are in town.
1. The State Capitol and Visitors Center
The Texas State Capitol is one of the biggest attractions found in Austin. However, when you think of museums, this may not be the first thing that comes to mind, the adjacent Texas State Capitol Visitors Center, housed in the historic 1856 State Land Office building, is an official museum in Austin.
The Texas State Capitol itself is living history and offers an experience not quickly forgotten. From its signature red granite exterior to the Goddess of Liberty statue astride its dome, the Texas State Capitol contains more floor space than any other state capitol building.
Your kids will love the magnificent rotunda inside, especially when viewed from the dizzying floors above. The seal on the rotunda floor represents the six separate seals under which the Texas flag has flown during its long and rich history.
The 20+ park-like acres of the Capitol Grounds, populated with a wide variety of mature native Texas trees and numerous monuments and memorials, with the imposing and impressive Capitol in the background, is the perfect backdrop for the family photo album.
2. Umlauf Sculpture Garden and Museum
Umlauf Sculpture Garden and Museum are one of the most exciting places you can visit in Austin tx. It is located near Zilker Park. Umlauf Garden was named for contemporary sculptor Charles Umlauf. His sculptures, including the works of other local artists, are featured in the museum.
The Umlauf sculpture garden and museum can host a yearly fundraising event called the Garden Party, and this event is held shortly after Easter every year. This year, the 11th year for this gala and party, the event will take place on April 23rd, and many local restaurants, clubs, vineyards, artists, and other merchants will display their wares during these event booths spread about the grounds
Many facilities on the property, like gardens, are readily available for rental. The proceeds are used to cover the facility's maintenance costs and the grounds, including several weddings, parties, receptions, and gala events held regularly at the museum and gardens all year round.
For the period of a silent auction, numerous creations, eclectic gifts, art, wines, jewelry, meals, and several other services from the local merchants are auctioned off. The proceeds will benefit all of the many educational programs sponsored by Umlauf Gardens and Museum.
Some of the Garden Party's restaurant sponsors include Hudson's on the Bend, Moonshine, Cool River Cafe, and Green Pastures, among others, and vendors will have samples of the tasty menu specialties of these restaurants available to patrons of the garden party for a nominal fee.
Attendees can choose between the wares of various restaurants from the many booths, stands, and vendors situated along the tree and foliage encircled paths that meander throughout the grounds. Drinks are also available from outlets along the paths, including choices of refreshments such as local wines and beer, and other beverages, with wine being provided by local liquor company Twin Liquors. A great dance floor is set up in front of the stage and orchestra. Dancing is usually a popular activity during the event, along with schmoozing with the local cognoscenti.
Umlauf Gardens offers something for everyone, and with its natural beauty and exquisite art, the facility forms a perfect location for your next visit or your next event. Therefore the next time you are in the Barton Springs area, be sure to explore the many wonders that Umlauf Garden and Museum has to offer!
3. Zilker Park Attractions
Zilker Park is the brightest jewel within golden crown Park in Austin. The park is 351 acres of endless amusements for all ages and interests. There is something for every season of the year, from the Trail of Lights at Christmas to a dip in the calm waters of the spring-fed pool on a steamy summer day.
The site is one of Austin's oldest tourist attractions. It is hard to pick a spot to visit or start exploring. The attractions in the park includes:
Barton Springs Pool
It is probably the best-known attraction for outdoor activities s in the park. The three-acre pool is an average sixty-eight degrees year around. The grassy hills sloping down to the pool's edge offer shady spots to put down a blanket for a day of swimming and picnicking with family and friends.
The underground spring that feeds the Barton Springs Pool is part of Barton Creek, which winds its way to join Lady Bird Lake. The gazebo at Lou Neff Point, where Barton Creek flows into Lady Bird Lake, is a great place you can sit and feed the ducks when getting a view of the interesting architecture in downtown Austin. Enjoying the lake's tranquil waters that flow across the northeast edge of Zilker Park, it is fun to watch people grow by in the kayaks and canoes available for rent.
The Austin tx Nature and Science Center
If you are looking for an outdoor activities which is family friendly, then Austin attractions such as Zilker park is for you. It is dedicated to offering exhibits, educational programs, and recreational fun exploring the natural world. Various live animals are native to Texas on shows, like Martha the coyote and Gandolf, the owl. Most of these cute creatures have found a home at the Nature Center after being rescued from well-meaning people who tried to make them into pets. Along with viewing the animals, children can dig for bones in the Dino Pit and use scientists' tools in the Naturalist Workshop. If you like to see state of the art technologies then this is definitely a must visit place if Austin.
The Zilker Botanical Gardens
A place can be found for silent meditation or a quick sketch among the Hartman Prehistoric Garden, the Taniguchi Oriental Gardens, and the Mabel Davis Rose Garden. The preserve offers a sanctuary for native plants and animals. It is a great place to visit, arrange a family tour, or just to spend time in great outdoors within Austin's city areas.
wooden playscape and the Zilker Zephyr miniature train
The old and Young will get a kick out of the drums and giant xylophone that are part of the playscape. The 25-minute train ride is a great way to see the park and wave at the walkers and runners along the trail as the Zilker Zephyr travels the water's edge. You will find a large picnic pavilion and a snack bar.
Whether it's flying a kite, playing a game of soccer on one of the 12 sports fields, or a friendly game of disc golf, there is an almost endless array of things for Austenite's of any age to enjoy at Zilker Park.
4. Bats from Congress Avenue Bridge
If you are in visit within downtown Austin during an early summer evening, you cannot miss the bat swarm. The colony will emerge before sundown from the roost under south Congress ave Bridge in search of an insect supper. A winding horizontal vortex of an estimated 1.5 million Mexican Free-Tailed Bats streams from beneath the bridge and then snakes along Lady Bird Lake.
Austin tx is hosting a nursing colony. Early spring marks the bat mother's arrival. They will generally have their baby "pup" in mid-June. The younger bats will learn to fly in late August. They will later join the evening swarm to hunt for insects. This makes the most impressive emergencies in Late August and September evenings. The colony relocates south to Mexico as the colder temperatures of fall approach in October.
Mexican Free-Tailed is medium-sized insect-eating bats. They are swift flyers reaching speeds of 60 mph. They are also long-distance travelers, often migrating up to a thousand miles between central Mexico, Texas, and beyond. They benefit our region with their voracious appetite for flying insects.
The south Congress avenue Bridge was widened in the 1980s, and an accident of this redesign was perfect crevices for the nursing bat mothers. Keep Austin Weird and Visit South Congress Avenue. The setting also attracted colonization with its water and location near prime insect hunting grounds in the Colorado River valley. The bat colony was initially considered a pest but has since been embraced as a one of the Austin's attractions point you can tour around and is now a prominent part of the Keep Austin tx Weird culture.
Central Texas hosts many other bat colonies. The largest is a vast 20 million strong colony near San Antonio in Bracken Cave. Another large colony is in the Old Tunnel Wildlife Management area near Fredericksburg. New territory has started under the McNeil bridge of I-35 in Round Rock.
5. Lady Bird Lake
Previously known as Town Lake, The Lady Bird Lake is the portion of the Colorado River running through the center of Austin. It is dammed on both ends, creating a peaceful waterway within Austin city limits. It also has several boating opportunities.
Lady Bird Lake Boating is perennially popular for both recreational and sporting teams for boaters. There are Family Friendly Guided boat tour of Lake Austin. No motors are permitted, allowing the visitors to enjoy a relaxing day rowing, paddle, kayaking, and canoeing boating. There is a Rowing Dock which is a Town Lake Park, and a Recreation concession. This is where you will rent boats on an hourly basis within Austin city limits. They also provide camps, private lessons, memberships, and classes.
6. Bullock Texas State History Museum
The Bullock Texas State History Museum, a place where one can explore all day "the continuing unfolding of Texas history." Three floors of exhibits trace Texas history, plus a great IMAX theater, offer on anything they would like to learn about this great state. The museum opened in 2001 and provided a gift shop that one can get almost anything imaginable. Items include everything from books to things for the kitchen.
Bullock Texas State History museum is home to the artifacts displaying that significant feature event found in the state's history. Artifacts such as the preserved hull of the 17th-century, which was shipwrecked at the mouth of Mississippi River. Other exhibits and presentations include the Texas oil industry's history, the fall of the Alamo, and Tejano culture.
The IMAX theater museum shows popular new-release educational films. Additionally, the museum hosts several special events throughout the year, including children's activities and public presentations.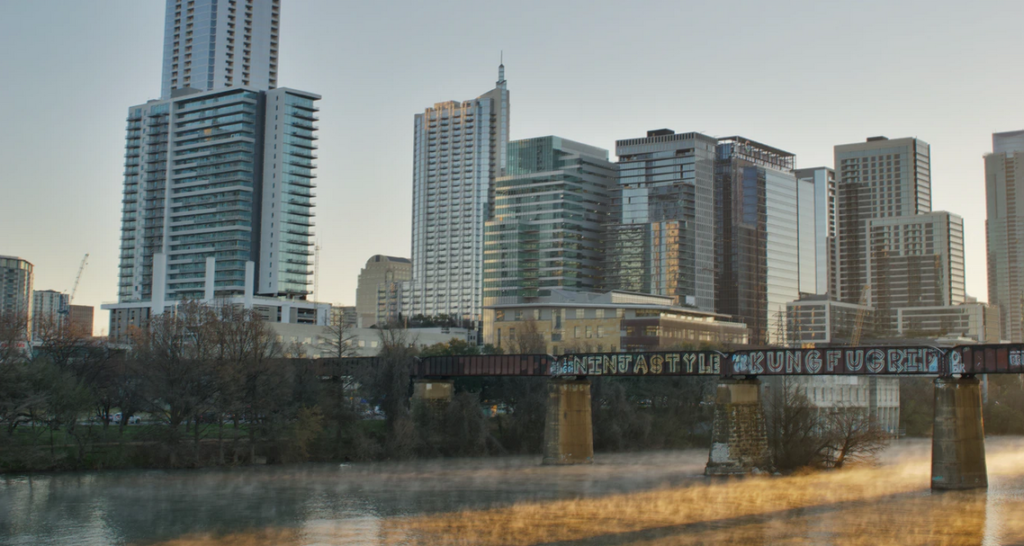 7. Mexic-Arte Museum
Mexic-Arte Museum represents one of the most prominent cultural influences as well as the population in the city. It showcases the contemporary and traditional Latin American, Mexican, and Latino culture and art.
The museum will feature a rotating exhibit, which has statements on the current thought-provoking issues, like border control, immigration, and acceptance of Texas's Mexican culture.
You will find several installations and galleries which are topic-focused, including the sculptures and artwork of one or several artists, painting, collections of photography, multimedia work representing populations within the culture.
The museum also hosts free "family days" several times a year, when the public can participate in hands-on activities that help visitors get a deeper understanding of the artists' work.
8. Barton Springs Pool
Since it is prohibited to swim in the Lady Bird lake, there is a nearby Barton Springs Pool within Zilker Park, a great place to cool off. This is one of the outdoor activities among Austin's attractions site.
It is a spring-fed pool along the Barton Creek, which covers three acres of an area with a 70 degrees average temperature all year-round. The Locals and tourists will enjoy perfect water reaching a level of up to 18 feet in depth.
The area is a protected habitat mainly for the endangered Barton Springs Salamander. It is only present in this particular aquifer. Since there is a delicate balance between nature and recreation, the pool will be closed once a week.
9. Austin Steam Trains
No discussion of Austin attractions would be complete without mentioning the Austin Steam Train Association and its weekend tours of the Texas Hill Country just outside Austin. Vintage passenger rail cars provide a unique view of the countryside and a glimpse back into history, including a 1912 Bertram Train Depot tour. Reservations are recommended.
10. LBJ Library and Museum
LBJ Library and Museum is the most visited attractions site in Austin. It has pages of 45 million historical papers and documents from lengthy career of President Lyndon Baines Johnson.
The museum became dedicated in the year 1971 and got refurbished in 2013. It contains an exhibit relating to the time of the president time in office, where you will find essential issues for the day, like the rise of civil rights.
11. Mount Bonnell
Mount Bonnell is located in Covert Park which is one of the many parks located in Austin. It was named after George W Bonnell who was the commissioner of Indian affairs under Sam Houston in 1836. The park itself was named after Frank M Covert who donated the land to the city in 1939. It is not the biggest park but its Mount Bonnell contains some of the most dramatic views in the city. When you arrive at Mount Bonnell you will first be greeted by a staircase which can be quite intimidating. There are 106 stone steps which lead to the top of the mountain.
Don't worry if you take it easy you will make it and it is well worth the journey. Once you arrive at the top you will be at a height of 785 feet which is the highest point in the city. You can then take in some dramatic hill country, Colorado River and city views. You will be amazed by the beauty of this part of Texas and you will quickly see why it is a must see attraction. For any Mount Bonnell tours, you will not be disappointed.
What should I see in Austin, Texas?
Austin, Texas, is one of the fasted growing cities in the U.S., according to CNN's Money Magazine. As of 2006, it is the 16th largest city in the U.S. and the fourth largest in Texas. It is quickly becoming the hub of commerce combined with a high quality of life.
With an above-average income and relatively low housing costs, there has been a land rush for a stake "Best Places to Live" in the last few years. If you live in Texas, take a weekend trip and enjoy what Austin has to offer.
Music Festivals
Austin is known as the "Music Capital of the World," with the most famous festivals carrying on that tradition. Austin City Limits Music Festival is a three-day art and musical celebration with more than 130 bands and 65,000 visitors daily. The festival has put Austin back on the map after a ten-year hiatus out of the public music lovers' eye. Many acts are captured live and shown on Tori Amos, Willie Nelson, Elvis Costello, Cold Play, and many others.
Bat Bridge
Under the Ann Richards Congress Avenue Bridge in Austin, you will find millions of bats are hanging out. Which is the largest urban population of this creatures in the world. Every evening these Mexican Free Tail bats surface to seek out insects and bugs. This curiously attracts 100,000 viewers annually. After harboring under the bridge for the summer, spring, and fall months, they head towards Mexico in the winter, which is even a more fantastic site to see. You can watch them whether you live in Austin or just visiting.
What should you not miss in Austin?
Austin, Texas, a village on the Colorado River banks, has become a necessary center for state government, technology education, and business. Austin is the third-fastest-growing large or mid-sized city in the United States. Austin is a known tourist destination which mainly is the goal for those seeking to relocate. Most people tours Austin every year for its moderate climate, natural landscapes, and diverse attractions. Austin has at least six things that you'll find nowhere else in the United States.
1.The most live music venues per capita
Austin has been given the nickname "The Live Music Capital of the World." With over 200 live music venues in 757,000 people, Austin visitor center, surpasses New York and Las Vegas in this respect. Visitors coming to Austin will listen to live music every night of the week. Austin's music scene is centered around its Sixth Street and Warehouse District, which feature many restaurants and clubs. Additionally, each spring, Austin holds an annual music and film festival known as South By Southwest (SXSW). If those whose musical tastes lean more toward the classical, Austin also has a symphony orchestra, symphonic band, and lyric opera, considered one of the best in the nation.
2.The world's largest urban bat colony
A huge colony of Mexican free-tail bats resides beneath south Congress Avenue bridge during March all through to November. Each summer, they take up residence under the bridge and are estimated to be 750,000 to 1.5 million, matching or surpassing the city's present human population. Each night at dusk in a spectacular display. They fly out from underneath the bridge and across the lake in the town center to find food.
3.The largest state capitol building
The Texas State Capitol, based on and built in the same architectural style as the U.S. Capitol, is fourteen feet taller. Its exterior is composed of local red granite. Inside Capitol, the rotunda is a portrait of every person who has served as president of Texas's Republic. The dome also serves the purpose of a whispering gallery. Legend has it that if you stand directly in the center, and wish you make can come true under the dome. You will also see a Senate Chamber, which contains the original Senator desks purchased in 1888. Allegedly, spirits of long-departed Texas lawmakers and others who occupied the Capitol and grounds can sometimes be seen roaming the building's halls.
4.presidential library that is free
Austin is where you will find a presidential library that charges no admission fee. The library honors Lyndon Baines Johnson, born and raised in Johnson City, about 50 miles west of Austin, and retired after that, declining to run for a second term. The ten-story building houses a museum containing displays relating to the United States in the 1960s, gifts presented to President Johnson from other heads of state, Johnson's papers, speeches, and other artifacts available for scholarly research, and a life-size recreation of the Oval Office as it appeared during Johnson's presidency. The library charges no admission at the request of Johnson, who hoped visitors would "achieve a closer understanding of the Presidency and that young people will get a clearer comprehension of what this nation tried to do in an eventful period of its history."
5.The most extensive solar array
Gemini Solar Development, a San Francisco-based company, was recently selected by Austin Energy, one of the city's power companies, to install its largest solar power facility. The array will be owned by the company, which will lease the plant to Austin Energy. The array will produce 30 megawatts, double the output of the current most extensive solar array in the U.S., and enough to power 5,000 homes. The array will be located on a 300-acre site outside Austin.
6.The worst traffic congestion for a mid-sized city
According to the Take On Traffic website, Austin ranks worst in traffic congestion among mid-sized U.S. cities. Central Texas residents spend an extra 52 hours each year in their vehicles because of congestion. That costs travelers about $1,000 per year, which is higher than for commuters in Seattle, Baltimore, Philadelphia, Denver, Phoenix, and San Antonio. The congestion is attributed to a lack of transportation funds to build new roads, lack of proper planning of urban development, and lack of political will to expand public transportation options. Since 1992, the number of hours central Texans spend sitting in traffic has more than doubled, and an estimated 25,000 additional vehicles travel the city's streets each.
What is Austin, Texas, best known for?
Austin, Texas, is best known for being the capital city of one of the largest states in the union and hosting the most significant music festival in the Southwest. The burgeoning live music scene here is the modern-day equivalent to the Seattle grunge scene during the early 90s. That aside, this city is both diverse and magnificent and has much to offer the visitor. While there are many notable places that you should try and see if you find yourself passing through Texas, these top ten are truly must-see destinations that can enhance your trip in this state and make for some very fond memories when you return home. Texas State Capitol: One of the prettiest and most magnificent capital buildings in the United States is the brainchild and architectural baby of designer architect Elijah E. Myers, originally finished being built in the late 1800s. This near-exact replica of the White House is just as grand and shouldn't be missed when in Texas.
Lyndon B. Johnson Library and Museum
This is, without a doubt, the most popular of all presidential libraries. LBJ was the 36th sitting president, made famous for his secret taping of Oval Office affairs, tapes shown in this building, and the Watergate Scandal. The library also houses nearly forty million documents and a replica of the Oval Office itself.
Zilker Botanical Garden
This must-see botanical garden runs adjacent to Barton Springs Road and features multiple different gardens that span over twenty acres. This is considered one of the finest botanical gardens in the country and is absolutely a must-see when you travel to Texas at Austin.
East 6th Street
Ever wondered what there is to do at night in Austin? East 6th Street is the answer. During the weekends, they close off the streets to cars, and only foot traffic is allowed. Tons of bars, restaurants, and nightclubs litter the streets, complete with live performers, vendors, food carts, and live music. It is a must-see for all who venture to this fantastic state, one of the nightlife's staples.
Stevie Ray Vaughan Statue
When you travel to Texas at Austin, ensure that you stop by Auditorium Shores. You can catch a glimpse and shoot a photo of this incredible statue. He was initially erected in 1994 to pay homage to the late Stevie Ray Vaughan – a fantastic blues rocker that died tragically in a plane crash – perhaps one of the most legendary musicians to ever claim this city as his hometown.
Conclusion
Finding affordable apartments in Austin Texas can be quite a daunting task considering that the city has a wide variety of neighborhoods you can choose from. However, when it comes to choosing Austin, Texas apartments, help is close at hand. You can visit our website page txhighrisers.com where you will find up-to-date information regarding the areas in Austin where rental houses and houses for purchase are available and find information on the average rent charged and information rental market in Texas at Austin as a whole. Suitable apartments in Austin are available in plenty, but you have to rely on the best resource.